Page 14 - FCW, July 15, 2016
P. 14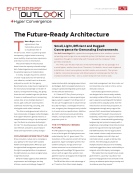 EN TE RP RISE
SPONSORED REPORT
OUTL K
Hyper Convergence
The Future-Ready Architecture
hese days, federal organizations face tremendous pressure to modernize their IT
infrastructure. There's a push for greater transparency, higher levels of security, more mobility, improved user experience, and instant access to information.
The current federal IT infrastructure doesn't have the capacity to handle today's data. Federal agencies are concerned about the potential expense of modernization.
In reality, changes required to achieve
a future-ready posture are incremental, cost-effective, and will result in dramatic and positive results for the agency. Becoming future-ready means tapping into the institutional knowledge of resident IT leaders, letting them think big, and giving them the tools needed to get the job done. It means a mobile workforce transporting secure data across multiple devices. It means agile, software-based systems seamlessly transferring, securing, and sharing data with older hardware.
"The future-ready government infrastruc- ture incorporates strategies and technologies that support whatever agencies need to ac- complish without having to 'rip and replace,'" says Tim Bock, an enterprise technologist
for Dell. "It's about being open, flexible, and cost-effective; and able to accommodate needs and requirements as they change."
CONVERGED INFRASTRUCTURE
Drive innovation, reduce costs, and prepare your agency for the future with scalable, flexible converged systems. When you pair the right unified management system with the right converged platform to implement the right solution, you create an agile, future- ready infrastructure.
Different federal agencies have different requirements and challenges, but they
all share a common challenge: Support IT
modernization while managing expectations and budgets. Dell's converged solutions are compute-optimized integrated systems built for the software-defined era.
U.S. Federal CIO Tony Scott's priority is for federal agencies to reduce spending on legacy systems support from 80 percent of the annual IT budget down to 20 percent (or less). By moving to a converged infrastruc- ture, an agency has the opportunity to build to its exact mission specifications. Addition- ally, Dell's solutions provide predictable, reliable, and repeatable results – with no proprietary lock-in.
THE HYPERCONVERGED FUTURE
The FBI updated its legacy infrastructure
in one of the largest VDI deployments ever undertaken by the U.S. government. The foundation of this solution is Dell's XC Series appliances, hyper-converged systems that combine compute, storage and virtual- ization resources in one solution built on preconfigured PowerEdge 13th generation servers with an agent-free systems man- agement solution and appliances integrated with Nutanix software.
The FBI will be able to take advantage of an IT solution that offers simple deploy-
ment and management and also scales-out incrementally, one node at a time, and as demands increase.
Dell's federal government solutions
are designed to be future-ready, modular, and easily scalable. With more than thirty years' experience working with the federal customer, Dell is uniquely suited, from the infrastructure and services perspective, to help agencies through every stage of the process. Dell's commitment and expertise combined with Tracewell's innovation and leadership, makes them a great combination.
Tracewell is a forward-thinking technology (engineering and systems) company with a long history of providing critical infrastructure platforms to government. By working with Dell OEM Solutions, the two organizations have created a future-ready infrastructure solution to deploy in aircraft, ships and command centers, as well as military data centers. The technology is suitable for multiple situations because of its flexibility, small and rugged form factor and its ability to integrate critical third party technologies.
"We realize the move toward future-ready government is a journey," says Bock. "Our goal is to help agencies move forward in that journey at whatever point they are today and at whatever pace they require."
Small, Light, Efficient and Rugged: Convergence for Demanding Environments
The Dell PowerEdge FX is a powerful converged platform that combines servers, networking and storage into one complete system. Dell delivers even greater capabilities through its relationship with Tracewell and the company's T-FX2 portfolio of products.
The T-FX2 uses the best features of the Dell PowerEdge FX, but packages it in
a much lighter, smaller form factor. Therefore, it's ideal for aircraft and shipboard installations, transit case systems and data center environments. The system
is lighter, consumes less power and delivers greater cooling capacity than the standard commercial FX2 – all in a 24 inch footprint from front to back.