Page 9 - Campus Technology, October/November 2020
P. 9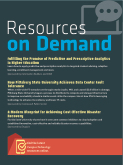 Fulfilling the Promise of Predictive and Prescriptive Analytics in Higher Education
Learn how to apply predictive and prescriptive analytics to targeted student advising, adaptive learning, enrollment management and more.
Sponsored by Information Builders and AWS
How Pittsburg State University Achieves Data Center Fault
Tolerance
When a mile-wide F5 tornado tore through nearby Joplin, MO, and caused $2.8 billion in damage, Pittsburg State University began a process to distribute its compute and storage infrastructure
to improve survivability should a similar event strike the campus. Here's how PSU is leveraging
technology to enhance its resiliency and lower IT costs.
Sponsored by Commvault Public Sector
A Modern Blueprint for Achieving Cost-Effective Disaster Recovery
Florida State University shares how it overcame common inhibitors to cloud adoption and
established innovative, cost-effective and reliable disaster recovery capabilities.
Sponsored by Enquizit
campustechnology.com
9
Find the latest
Campus Technology
resources online.