Page 9 - Campus Technology, March/April 2020
P. 9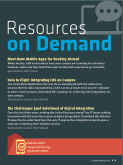 Must-Have Mobile Apps for Heading Abroad
When faculty, staff and students from your campus are traveling for university business, make sure they load these apps to help their experience go smoothly. Sponsored by SAP Concur
Data in Flight: Integrating CAS on Campus
Yes, Centralized Application Services do an amazing job with the admissions process. But the data maintained by a CAS can do so much more once it's released to other school systems. Download this roadmap for achieving CAS integrations on your campus.
Sponsored by Liaison International
The Challenges (and Solutions) of Digital Integration
Over the last three years, nothing else in the Educause annual Top IT issues ranking has grown with the same fierce pace as digital integrations. Download this Industry Perspective to understand how the way IT approaches integration projects goes a long way in defining their ultimate success.
Sponsored by Liaison International
campustechnology.com
9
Find the latest
Campus Technology
resources online.