Page 32 - Campus Technology, March/April 2020
P. 32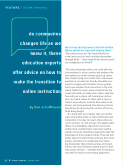 FEATURE
Online Learning
32
CAMPUS TECHNOLOGY | Mar/Apr 2020
As coronavirus changes life as we knew it, these education experts offer advice on how to make the transition to
online instruction.
By Dian Schaffhauser
Most of my faculty haven't done this before. Where should we start with training them? "Start where you can! The faculty likely has e-mail and can start with sending information through [that]." —Kara Longo Korte, director, prod- uct management at TetraVX
"The most important advice we could offer fac- ulty members is to be creative and embrace the new options an online format opens up, rather than simply trying to recreate the in-classroom experience via webcam. Faculty should be pre- pared to engage with students at every phase and to personalize their instruction to the indi- vidual student's needs. Some students like the visual interaction of video chat; others might be fine with just a phone call. Sometimes instruc- tors can create videos to share with a class or cohort, especially for material that needs to be shown, not just explained. The delivery choices should also be driven by the content of the ma- terial being taught.
"It is important to recognize that our familiar ways of teaching make us feel comfortable and competent. It is okay to mourn those when we can't use them. In a lot of ways, the digital realm offers more flexibility and room for personal- ization than a traditional in-classroom setting would, so faculty should be prepared to take full advantage of those opportunities. They will feel better about the shift if they embrace their inner learner and allow it to invigorate their teach- ing. Remember that online learning, at its best, mirrors the way individuals spend much of their days online already — whether they're learning a new skill for work or researching appliances.