Page 9 - Campus Technology, January/February 2020
P. 9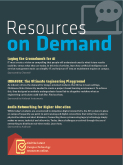 Laying the Groundwork for AI
IT must create a vision so compelling that people will understand exactly what future results could be, versus what they are today. In this trio of articles, learn how artificial intelligence and service management tools can simplify IT and help turn IT into an enablement engine on campus.
Sponsored by Cherwell
ENDEAVOR: The Ultimate Engineering Playground
As industry drives the demand for design-oriented students that thrive in team settings, Oklahoma State University needed to create a project-based learning environment. To achieve this, they designed an entirely undergraduate-based lab to altogether redefine what an engineering curriculum could look like. Find out how.
Sponsored by National Instruments
Audio Networking for Higher Education
While today's students are accustomed to ubiquitous digital connectivity, the AV systems in place on campus frequently use point-to-point analog and digital connections that tether the system to physical locations and short distances. Connecting these systems using legacy technology simply makes no sense, technical and otherwise. Today, these challenges are solved through the use of networking to distribute real-time media. Learn how.
Sponsored by Audinate
campustechnology.com
9
Find the latest
Campus Technology
resources online.