Page 46 - Campus Technology, October/November 2018
P. 46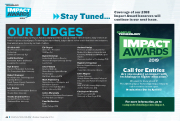 2018
Stay Tuned...
Coverage of our 2018 Impact Award honorees will continue in our next issue.
OUR JUDGES
Entries were reviewed by our Impact Awards Judging Committee, a group of higher ed tech leaders, many of whom are former recipients of the Campus Technology Innovators Award. Judges did not review entries from their own institutions. Final winners were chosen by our team of editors.
Jill Albin-Hill
Vice President for Information Technology
Dominican University (IL)
Judith Boettcher
Consultant, Author and Analyst
Designing for Learning
Kyle Bowen
Director of Education Technology
The Pennsylvania State University
Robert Bramucci
Vice Chancellor, Technology and Learning Services
South Orange County Community College District (CA)
Lois Brooks
Vice Provost for Information Services
Oregon State University
Tilanka Chandrasekera
Assistant Professor, Design
Oklahoma State University
Ed Chapel
Senior Vice President
NJEDge.Net
Daniel Christian
Instructional Services Director
Western Michigan University Cooley Law School
John Fillwalk
Director, IDIA Lab
Senior Director, Hybrid Design Technologies
Ball State University (IN)
Mark Frydenberg
Senior Lecturer of Computer and Information Systems
Director of the CIS Sandbox Bentley University (MA)
James Maraviglia
Vice Provost, Enrollment Development
Cal Poly-San Luis Obispo
Pam McQuesten
CIO
Beloit College (WI)
Andrew Phelps
Professor and Director, Center for Media, Arts, Games, Interaction and Creativity (MAGIC) and MAGIC Spell Studios
Rochester Institute of Technology (NY)
Raymond Uzwyshyn
Director, Digital Services and Collections
Texas State University Libraries
Ellen Wagner
Visiting Professor
George Mason University College of Education and Human Development Chair
IEEE ICICLE Learning Engineering and the Professions SIG
Christopher Wessells
Vice Provost and CIO
University of San Diego (CA)
46
CAMPUS TECHNOLOGY | October/November 2018
Call for Entries
Are you making an impact with technology in higher education?
We want to know about it!
The 2019 Campus Technology Impact Awards call for entries is now open.
Nominations Due by April 15!
For more information, go to
campustechnology.com/impact.