Page 35 - Campus Technology, January/February 2018
P. 35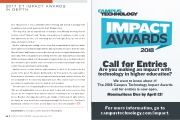 Call for Entries
Are you making an impact with technology in higher education?
We want to know about it!
The 2018 Campus Technology Impact Awards call for entries is now open.
Nominations Due by April 13!
2017 CT IMPACT AWARDS IN DEPTH
35
at it. "Our provost is very comfortable with technology and will log in and play with visualizations, but not all deans are like that," Roldan noted.
"This way, they can be kept abreast of changes every Monday morning, filtered for their school," Roljevic said. "Deans can quickly see if employee counts or stu- dent admissions are fine, or if something doesn't look right, they can click on the image and explore further."
Another challenge was creating concise views that encapsulated the high-level details deans want to see but that also align with the data reported by executives down the chain. After all, finance and human resources directors rely on more in-depth dashboards of the same data. All the visualizations are working from the same data warehouse and data definitions, Roljevic added, so if a dean wants to explore further, his or her finance director does not have to go to another source to research it or start researching the topic from scratch. They are all acting on identical data.
Another lesson, in tune with the agile mindset, is don't let the perfect be the enemy of the good. The Dean's Dashboard is far from perfect, the team admits. Some areas of information, such as student financial aid and student retention, are not yet available in the university data warehouse. Also, business processes that are unique to a particular school or dean are not included.
The whole process of expanding BI across the university is iterative, Roljevic said. "We are still adding data sources, but we want to give end users resources they can use as we complete them, and not wait for everything to be in a data ware- house. Besides, their appetites and needs change continuously. In agile fashion, we deploy as soon as we have something meaningful for them to use. The Dean's Dashboard continues to evolve as new data sources become available."
David Raths is a freelance writer based in Philadelphia. CAMPUS TECHNOLOGY | January/February 2018
For more information, go to campustechnology.com/impact.