Page 17 - Campus Technology, January/February 2018
P. 17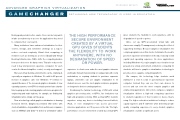 SPONSORED REPORT |
ADVANCED GRAPHICS VIRTUALIZATION
GAMECHANGER
During peak periods before exams, there can be long waits in labs as students try to access the applications they need to complete their coursework.
Many institutions have embraced virtualization for their servers, storage, and sometimes desktops as a way to reduce cost and complexity. Virtual client computing, in iterations such as desktop as a service (DaaS) and Virtual Desktop Infrastructure (VDI), shifts the computing burden from user devices to the data center. That also reduces the need to buy and provision expensive computers for each seat in the lab and simplifies control, security, and support.
But even virtual desktop environments can be challenged, especially as migrations to Windows 10—with its 32 percent increase in graphics calls over Windows 7—continue to expand. Because of the increased graphics demands of new operating systems, even CPUs in virtual systems have a harder time keeping up. Labs running graphics-intensive programs for engineering and math students, for example, are finding that virtualization alone simply can't keep up.
Now a technology called graphics virtualization is drawing increased interest. Graphics-accelerated VDI works with client virtualization—long available from well-known companies such as VMWare and Citrix—to deliver a workstation-caliber
RETHINKING HOW TECHNOLOGY IS USED IN EDUCATION
THE HIGH PERFORMANCE SECURE ENVIRONMENT CREATED BY A VIRTUAL GPU GIVES STUDENTS THE FLEXIBILITY TO WORK ANYWHERE, WITH NO DEGRADATION OF SPEED OR POWER.
experience to clients even under the most graphics-intensive workloads. Instead of provisioning on-campus labs with costly workstations, or requiring students to purchase expensive laptops, universities can use graphic virtualization to let students access even the most graphics-intensive programs on inexpensive devices running anywhere.
Combining the familiar technology of VDI with virtual graphics processing units, or GPUs, lets institutions run high-end programs remotely. With a virtual GPU, students anywhere using any device—including low-end tablets, iPads, or even smartphones—can access processor- intensive applications as if they were in the lab. The high- performance secure environment created by a virtual GPU
gives students the flexibility to work anywhere, with no degradation of speed or power.
Once set up, GPU-accelerated virtual labs and classrooms simplify IT management, reducing the effort of supporting desktops. Because graphics virtualization lets complex programs run on thin clients, it eliminates the need to provision expensive workstations in the lab, reducing overall capital and operating expenses. As more applications, including Windows 10, require graphics acceleration to run properly in a virtual environment, institutions competing for students will turn to graphics virtualization technology to provide a more capable computing platform.
On campus, the technology helps students avoid waiting for a seat in a lab or purchasing an expensive computer. Instead they can use their own devices to access and run even the most complex graphics and engineering applications. On remote campuses, graphics virtualization delivers a high-end computing experience to students regardless of their location or device they're using. For higher education institutions looking to reduce capital expenses and IT staff time while delivering a high- quality computing experience to every student, graphics virtualization could be a significant asset.