Page 52 - College Planning & Management, November 2017
P. 52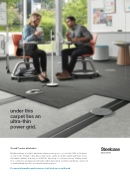 under this carpet lies an ultra-thin power grid.
ThreadTM power distribution
Building design shouldn't determine where power goes—you should. With a thickness of only 3/16", ThreadTM ultra-thin power tracks create an under-carpet grid that's more affordable, flexible, and easy to install. No trenching or coring necessary. Simply install floor connectors and place power hubs within easy reach, and turn any library, classroom or underutilized area into a powerful learning space.
For more information and resources, visit steelcase.com/thread
©2016 Steelcase Inc. All rights reserved. Trademarks used herein are the property of Steelcase Inc. or of their respective owners.