Page 20 - THE Journal, October/November 2018
P. 20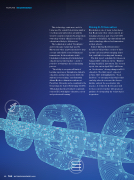 20
| OCTOBER/NOVEMBER 2018
FEATURE |TECHTRENDS
This technology exists now, and it's being used by a small but growing number of colleges and universities around the world to empower students by giving them ownership of their official record. K-12 education is likely to follow soon.
The technology is called "blockchain," and it's the same technology used by Bitcoin and other crypto-currencies to keep a secure and reliable record of financial transactions. In the academic world, blockchain is being used to link students' educational records together — and it's poised to revolutionize the credentialing process.
"The ability to recognize all kinds of learning experiences throughout a student's education, and have that record follow the student, is very exciting," says Samantha Adams Becker, a futurist in residence at Penn State University and a consultant to the Consortium for School Networking (CoSN). "Blockchain has the potential to seamlessly connect K-12 with higher education, careers and professional learning."
Driving K-12 Innovation
Blockchain is one of many technologies that Becker and other edtech experts are watching closely as part of a new CoSN initiative to help K-12 superintendents and chief technology officers lead innovation in their schools.
Called "Driving K-12 Innovation," the project will produce a series of three reports each year about emerging issues that could affect teaching and learning.
The first report, scheduled for release in January 2019, will focus on the "Hurdles" holding back K-12 innovation. The second report, due out in April 2019, will focus on "Accelerators" driving changes in K-12 education. The third report, expected
in June 2019, will highlight five "Tech Enablers," or emerging technologies that can help schools overcome the chosen hurdles and put the accelerators into practice. A toolkit for K-12 leaders will tie these reports together with practical guidance for integrating the technologies in question.