Page 16 - THE Journal, January/February 2018
P. 16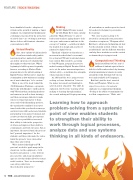 FEATURE |TECH TRENDS
16
| JANUARY/FEBRUARY 2018
how a handful of trends — adoption of virtual reality, growth of making, a bigger emphasis on computational thinking and continuing concerns about the protection of school data — are evolving in new ways that we believe will dominate education conversations in 2018.
Virtual Reality
Sure, there's plenty of talk in schools
about how virtual reality (and its lesser-used partner, augmented reality) can deliver experiences to students that they might not otherwise have. What's beginning to bubble up more frequently, however, according to Chelsea Waite, program director for global learning at Digital Promise Global, isn't so much the consumption as how students are making use of new technologies "to be creators."
Waite is one of the leads behind the 360 Filmmakers Challenge, a program that works with Oculus to outfit schools with VR technology, including headsets and cameras (as well as basic training), and then encourages students to make videos on topics that matter to them.
As a result of the filmmaking projects,
the organization explained in a report issued earlier this year based on surveys and interviews with teachers and students, participating teens gained technical and creative production skills, got exposure
to new career possibilities, increased
their ability to take in the perspective
of others and improved their ability to communicate and work on teams. Just as important, the survey found, the projects had "personal importance" for the students; and those who made the videos found the projects "more interesting"
than other school work.
Waite insisted that high-end VR
gear isn't needed to spark usage in the classroom. As the equipment — both headsets and cameras — come down in price and free and cheap smartphone apps are developed that allow for virtual world creation, "there are increasingly easy entry points from
the production perspective."
Making
In 2016 Digital Promise teamed
up with Maker Ed to issue a pledge called the "Maker Promise" to school leaders and teachers, urging them to dedi- cate space and resources and time to the concept of "making" — activities in which the student does design and creation of physical or digital objects.
That kind of hands-on education as a movement in schools has been around
for as long as CTE and vocational classes have existed. But somehow, according
to Josh Weisgrau, program director for maker learning at Digital Promise Global, we've set the maker movement apart as a distinct entity — something done alongside other programs of study.
As 2018 unfolds, we're going to start seeking a clearer distinction "between
the maker movement and [making] in schools and in education." The shift, he explained, will be from "learning about making to learning through making."
As a result, making will begin permeating
all curriculum, as another great tool used by teachers for helping to personalize
the learning.
"Not every teacher is going to be invested in creating the next generation
of makers or engineers," Weisgrau added. But they're all invested in figuring out how best the students in front of them "learn as individuals" and the different ways they can help those students access the content or domain they're trying to teach.
Computational Thinking
In the latest Hour of Code, tens of
millions of students spent at least a little bit of a December school day learning about programming at classroom events around the world. Tutorials by Code.org were made available in 45 languages.
But that's just the start, asserted Waite and Weisgrau. What we can expect to see more of is a greater emphasis on computational thinking. "Coding is the ability to manipulate the tool that computers use," Waite said.
Learning how to approach problem-solving from a systemic point of view enables students
to strengthen their ability to
work through logical processes, analyze data and use systems thinking in all kinds of endeavors.