Page 22 - THE Journal, October 2017
P. 22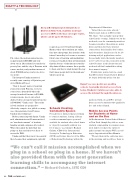 22
| OCTOBER 2017
EQUITY & TECHNOLOGY
CA, where the median annual income
is approximately $90,000 and only
about one in 20 residents lives under the poverty line, and the city of Pomona, with a more modest yearly median income of about $50,000 and a poverty rate above one in five.
The hotspots Unaka mentioned recently came courtesy of Sprint as part of its 1Million Project.
"Now it doesn't matter if you find yourself in south Pomona, or if you come from a household where the average household income is $30,000, versus someone else in our school district whose average household income is $300,000," Unaka said. "The reality
is both students are prepared to effectively compete in a global economy once they graduate from Pomona Unified School District."
Before partnering with Sprint, Unaka said, administrators at Pomona noticed an "inordinate amount" of students hanging around campuses after school. When they asked the kids what was going on, they said they were there to access the WiFi.
Unaka said that they weren't necessarily there because their assignments explicitly
required access to broadband, though. Rather, when "these students get online, they have chat groups; they interface with tutors; I mean they've become so resource- ful in terms of learning and marshalling resources to facilitate their growing minds that the absence of that internet consider- ably shuts off those avenues, those portals to them, and they're stuck doing it the way that I guess people did it in the dark ages" when he grew up.
At rural Beekmantown Central School District in New York, students now have access to WiFi on the bus on longer routes, which can be up to 45 minutes.
Department of Education.
"In fact there are some schools,"
Culatta said, such as in Mooresville,
NC, where "they actually open up their school in the evening, I think even on the weekends, even for community members because remember, these kids are going home and they don't have internet connections; their families don't either. And often those families need it for job training and job applications, and so
they actually invite the family members in to be able to use the connection in the school because in the afternoons and weekends all that bandwidth is sitting there unused anyway."
Culatta later pointed out via e-mail that Mooresville Graded School District no longer holds this policy, but has
Schools Creating Community Spaces
For schools or districts that are looking to connect students, leaving a library
or other communal space open and available for students after school hours is "A pretty reasonable solution in a
lot of places," according to Richard Culatta, CEO of the International Society for Technology in Education (ISTE) and former director of the Office of Educational Technology within the
partnered with a local ISP to provide home access for students who qualify for free and reduced lunch.
Mobile Access Points
for Students at Home
and on the Bus
At Beekmantown Central School District in New York, though they did see some students congregating in common areas, most didn't even have the option to gather around on-campus WiFi, accord- ing to Superintendent Dan Mannix.
"We saw them in the cafeterias more in the morning and we still see them in
"We can't call it mission accomplished when we plug in a school or plug in a home. If we haven't also provided them with the next generation learning skills to accompany the internet connection." — Richard Culatta, ISTE CEO
Kajeet's access points are used by schools to provide internet access from home. Students' families are also able to access the internet through the devices.