Page 21 - THE Journal, June/July 2017
P. 21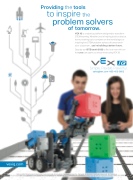 Providing the tools to inspire the
problem solvers
of tomorrow.
VEX IQ is a robotics platform designed to transform STEM learning. Whether you're helping build a robot at home, teaming up to compete on the world stage, or inspiring the STEM problem solvers of tomorrow in your classroom... you're building a better future.
Stop by our ISTE booth 3032 to find out more info on how you can spark a curious mind using VEX IQ.
Simple. Flexible. Powerful.
sales@vex.com 903-453-0802
vexiq.com
VEX and VEX Robotics are trademarks or service marks of Innovation First International, Inc. Copyright © 2002-2017. All Rights Reserved. VEX Robotics, Inc. is a subsidiary of Innovation First International, Inc. All other product names/marks of others are the property of their respective owners.