Page 53 - Security Today, September/October 2021
P. 53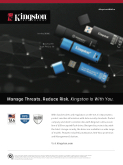 IronKey D300S
DataTraveler Vault Privacy 3.0
#KingstonIsWithYou
Manage Threats. Reduce Risk. Kingston Is With You.
Manage Threats. Reduce Risk. Kingston Is With You.
With data breaches and regulations on the rise, it's important to protect sensitive information with data security standards. Protect company and client's sensitive data with Kingston's ultra-secure line of USB encrypted flash drives. Designed to protect data with the latest storage security, the drives are available in a wide range of models. Features include Customization, Anti-Virus protection and Management Solutions.
Visit kingston.com
Some of the listed capacity on a Flash storage device is used for formatting and other functions and thus is not available for data storage. As such, the actual available capacity for data storage is less than what is listed on the products. For more information, go to Kingston's Flash memory Guide at kingston.com/flashguide.
©2021 Kingston Technology Corporation, 17600 Newhope Street, Fountain Valley, CA 92708 USA. All rights reserved. All trademarks and registered trademarks are the property of their respective owners.