Page 29 - Security Today, January/February 2021
P. 29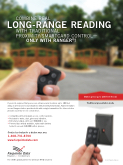 COMBINE REAL
LONG-RANGE READING
WITH TRADITIONAL — PROXIMITY/SMARTCARD CONTROL
ONLY WITH RANGER®!
If your site requires that you access entrances and locations up to 200 feet away, as well as doors and situations with proximity/smartcards, Farpointe Data's secure Ranger solution provides both with a single transmitter. No other solution provides such two-in-one convenience.
. Compatible with all popular access control systems.
. Resistant to water, dust, grime and vibration.
. Extremely reliable, with over 900,000 in use.
. Powered by a widely available, replaceable battery
tested to exceed 250,000 button presses.
Contact us today for a dealer near you.
1-408-731-8700 www.farpointedata.com
Button press up to 200 feet (61 m)
Traditional presentation mode
The OEM's global partner for premium RFID solutions
© 2020 Farpointe Data, Inc.