Page 18 - Security Today, October 2020
P. 18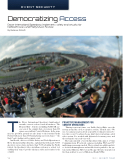 Democratizing Access Dover International Speedway implements safety and security for
NASCAR races and Firefly Music Festival By Barbara Rizzatti
The Dover International Speedway's high-banked, one-mile concrete oval race track is known as "The Monster Mile". It hosts six thrilling NASCAR rac- es a year at the complex that covers more than 800 square acres in Kent County, Delaware. In the sum- mer, the speedway grounds are also home to the four-day Firefly Festival with more than 100 bands playing across six stages — the East Coast's leading outdoor music event.
Jim Hosfelt, director of Public Safety and Track Operations at Dover International Speedway Inc., explained that with nearly 50,000 spectators on race days, and more than 70,000 attending the Firefly festival, the Speedway's video surveillance system is a critical tool enabling their team to provide efficiency, safety and security for the complex.
PROACTIVE MANAGEMENT FOR SMOOTH OPERATIONS
"During non-event times, our Public Safety Office uses the system around the clock to monitor activity," Hosfelt said. "We use our cameras as proactively as possible, looking for issues be- fore they occur. I've always been a firm believer in having a solid video system, I've worked with Advantech for many years, and the system fits our needs very well."
The team currently covers the Speedway with a mix of 25 Axis Communications IP network cameras, including PTZ and 360° multi-image panoramic models. They routinely use additional vid- eo feeds from smartphones and mobile devices pushed to the sys- tem via the Milestone XProtect mobile app. All video is monitored live then archived to a set of Milestone Husky NVRs.
18
1020 | SECURITY TODAY
EVENT SECURITY
Photos courtesy/Dover International Speedway Inc.