Page 78 - Security Today, July/August 2020
P. 78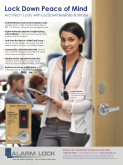 Lock Down Peace of Mind
ArchiTech® Locks with LocDown® Keyfobs & Strobe
• ArchiTech Wireless Access Control LocDown® Locks, standalone locks or locks networked campus-wide via 802.11 or Ethernet – Enterprise security integration, too
• Keyfob-ActivatedLockdown&brightflashing strobe indicator on inside door gives security control & peace of mind to occupants
• LockdownOneDoororaGlobalLockGroupin seconds from any keyfob on the system (each with programmable access, lock- and unlock-privileges)
• Customizable,sleekminimalistlook,choiceof levers, multi-technology access ID readers, in various colors, shapes & architectural finishes
• Quicklyretrofitsanystandarddoorlock; cylindrical models feature easy surface mount electronics & years of battery life (AAs), on all doors
• Keylessaccessforupto5000users,w/500 Scheduled Events & 36,000 Event Log. Integration w/
Locdown Keyfobs -
Staffers lock down one, or all networked doors in seconds
Inside in Emergency
Lockdown Flashing Strobe -Highly visible across the room, e.g., while sheltering in place
From the makers of Trilogy® – The #1 Locks in their Class
Schedule a Free Certified SAVI School Security Audit Onsite
1.800.ALA.LOCK • salesinfo@alarmlock.com • www.alarmlock.com
ArchiTech Networx N90L LocDown Lock, shown above, with silver oval HID Prox ID Reader & American Lever in US26D. ArchiTech, Trilogy, & LocDown are trademarks of NAPCO Security Technologies/Alarm Lock Systems Division. All others are trademarks of their respective companies.