Page 51 - Security Today, July/August 2020
P. 51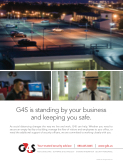 G4S is standing by your business
and keeping you safe.
As social distancing changes the way we live and work, G4S can help. Whether you need to secure an empty facility or building, manage the flow of visitors and employees to your office, or need the additional support of security officers, we are committed to working closely with you.
Your trusted security advisor. l 888-645-8645 l www.g4s.us RISK CONSULTING SOFTWARE & TECHNOLOGY SYSTEMS INTEGRATION SECURITY PERSONNEL
© 2020 G4S. All Rights Reserved.