Page 33 - Security Today, July/August 2020
P. 33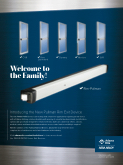 􏰀 CVR 􏰀 Rim- 􏰀 Dummy 􏰀 Mortise 􏰀 SVR Starwheel
Welcome to the Family!
􏰀 Rim-Pullman
Introducing the New Pullman Rim Exit Device
The new P8800/P8700 Series is an exciting new solution for applications requiring an exit device with a Pullman latching solution. Available with an array of essential mechanical and electrification options and specifically designed for retail storefronts, multi-use commercial offices, schools, medical centers and financial institutions where access control and accessibility is required.
With the addition of the Pullman Rim Exit Devices, Adams Rite now offers the most complete line of exit devices and related hardware in the industry
Visit adamsrite.com/exitsolutions to learn more about the P8800/P8700 Series Exit Devices.