Page 95 - Security Today, July/August 2018
P. 95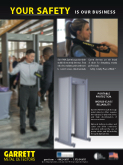 YOUR SAFETY IS OUR BUSINESS Since 1964, Garrett has produced the Garrett detectors are the brand
world's finest metal detectors. From schools to stadiums, and courthouses to concert venues, American-made
of choice for demanding security professionals.
Safety. Security. Peace of Mind.TM
PORTABLE PROTECTION.
WORLD-CLASS RELIABILITY.
Garrett's PD 6500i walk-through metal detector offers superior throughput, 33 pinpoint zones, and high discrimination of innocuous items.
Optional battery modules and caster sets allow continuous operation without the use of power cables, and full mobility for rapid deployment.
®
garrett.com • 800.234.6151 • 1.972.494.6151
Go to http://sp.hotims.com and enter 55 for product information.