Page 43 - Security Today, July/August 2018
P. 43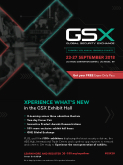 Get your FREE Expo-Only Pass
XPERIENCE WHAT'S NEW
in the GSX Exhibit Hall
• X-Learning across three education theaters • Two-day Career Fair
• Innovative Product Awards Demonstrations • 50% more exclusive exhibit hall hours
• ONE Global Exchange
PLUS, you'll find 550+ exhibitors displaying the latest security solutions, the ASIS Hub, International Trade Center, and countless opportunities to network and connect. Get ready to Xperience the next generation of exhibits.
LEARN MORE AND REGISTER GSX #GSX18 Promo Code GP24
Go to http://sp.hotims.com and enter 13 for product information.