Page 3 - Security Today, July/August 2018
P. 3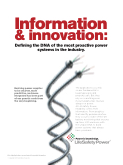 Information & innovation:
Defining the DNA of the most proactive power systems in the industry.
Evolving power supplies to be smarter, more predictive, and more integrated has been part of our genetic code from the very beginning.
The applications you rely on are fundamental to keeping people and property safe. But they rely on something even more fundamental: trusted, always-on power.
At LifeSafety Power,
reliability comes from information. From analytics that identify problems before they occur, to state-of-the-art battery monitoring that ensures up-time, LSP was born with
the unique DNA to build power systems that always have your back.
Power is knowledge.
Go to http://sp.hotims.com and enter 9 for product information.
© Copyright 2018 LifeSafety Power, Inc.