Page 167 - Security Today, July/August 2018
P. 167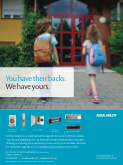 You have their backs.
We have yours.
Alarm Controls 1200S
Alarm Controls HES 9600 Securitron AQD6 Securitron
Push Button M62 Maglock Alarm Controls SREX
Facility managers are working hard to upgrade the security of their schools
– quickly and affordably. We can help with retrofit solutions that meet your challenges, including time and money. From existing exterior doors to inside the classroom, upgrade access control to protect what matters most.
ELECTRONICSECURITYHARDWARE HES|Securitron ALARM CONTROLS
800.626.7590 | assaabloyesh.com | alarmcontrols.com
Go to http://sp.hotims.com and enter 714 for product information.