Page 143 - Security Today, July/August 2018
P. 143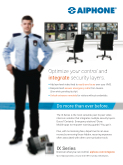 Optimize your control and integrate security layers.
● Add eye-level video feed to easily see faces over your VMS. ● Respond and answer emergency calls from towers.
(Even while patrolling facility!)
● Unlock entrances remotely for visitors without credentials. Do more than ever before.
The IX Series is the most versatile, peer-to-peer video intercom solution that integrates multiple security layers. Doors? Certainly. Emergency stations? Done.
Mobile apps to empower roaming guards? You got it.
Plus, with no licensing fees, departments can save money by removing those hidden, recurring expenses often associated with other communication tools.
IX Series
Discover what you can control. aiphone.com/integrate Go to http://sp.hotims.com and enter 707 for product information.