Page 129 - Security Today, July/August 2018
P. 129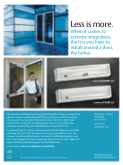 The Securitron EcoMag® electromagnetic lock offers all-in-one integrated options such as Securitron BondSTAT, Door Position Switch, Door Prop Sensing and Passive Infrared Request to Exit. Ideal for either new construction or retrofit, installing fewer devices around the door increases productivity and profitability in competitive bids.
If sustainability is a concern, environmental documentation is available outlining the up to 80% decrease in energy consumption over the previous Securitron M680 Series. Increased 1,200lb holding force and all-in-one integrated options round out what is now the most advanced (and sustainable) electromagnetic lock available today.
Learn more at www.assaabloyesh.com/m680e
Go to http://sp.hotims.com and enter 715 for product information.
Securitron M680EBDX-628
Securitron M680EBD-628
ELECTRONIC SECURITY HARDWARE
HES | SECURITRON
800.626.7590 assaabloyesh.com
Less is more.
When it comes to systems integration, the less you have to install around a door,
the better.