Page 125 - Security Today, July/August 2018
P. 125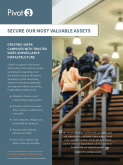 SECURE OUR MOST VALUABLE ASSETS
CREATING SAFER CAMPUSES WITH TRUSTED VIDEO SURVEILLANCE INFRASTRUCTURE
Pivot3 is purpose-built for the demanding, data-intensive video surveillance requirements of
the modern campus. Designed to reduce system complexity, enhance video data protection and improve video accessibility, Pivot3 allow customers to:
▶ Eliminate data loss and prevent image degradation
▶ Maximize uptime to ensure data is always available and accessible
▶ Scale compute, storage and bandwidth on-demand
▶ Manage easily without advanced IT skills
▶ Access live video on any device, from any location
For more information on how to better secure your campus, visit Pivot3.com
We need technology systems that can easily scale and expand with us and that's what makes Pivot3 such a valuable solution. Pivot3 will be a critical part of our technology infrastructure as we move forward with our expansion plans.
UNIVERSITY OF CENTRAL FLORIDA
Go to http://sp.hotims.com and enter 718 for product information.