Page 119 - Security Today, July/August 2018
P. 119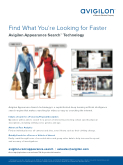 Find What You're Looking for Faster
Avigilon Appearance SearchTM Technology
Avigilon Appearance Search technology is a sophisticated deep learning artificial intelligence search engine that makes searching for video as easy as searching the internet.
Initiate a Search for a Person by Physical Description
Operators will be able to search for a person of interest by selecting certain specific physical descriptions, including clothing color, gender, and age.
Advanced Face Analytics
Find an individual across all cameras and sites, even if items such as their clothing change.
Quickly Search for a Person or Vehicle of Interest
Easily comb through hours of recorded video and group video data to help increase the speed and accuracy of investigations.
avigilon.com/appearance-search | asksales@avigilon.com Go to http://sp.hotims.com and enter 706 for product information.
© 2018, Avigilon Corporation. All rights reserved. AVIGILON, the AVIGILON logo, and AVIGILON APPEARANCE SEARCH are trademarks of Avigilon Corporation. Depicted features and functionalities may not be currently available and, if and when available, may not be as depicted. Image has been simulated for illustrative purposes.