Page 11 - Security Today, July/August 2018
P. 11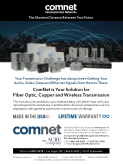 The Shortest Distance Between Two Points
Your Transmission Challenge has always been Getting Your Audio, Video, Data and Ethernet Signals from Here to There.
ComNet is Your Solution for
Fiber Optic, Copper and Wireless Transmission
The transmission products you choose today will affect how well your network performs tomorrow. ComNet offers the most comprehensive line of products designed to solve every transmission challenge.
View the Full Product Line at comnet.net and Identify the Fiber Optic, Copper or Wireless Connectivity Solution for your Application
Contact the ComNet Design Center Now for Free Design Assistance.
Call 1-888-678-9427 or 1-203-796-5300 or email designcenter@comnet.net
Visit us at ASIS 2018 | Las Vegas, NV | Booth 2859 | 25-27 September
Visit www.comnet.net Email info@comnet.net Phone 1-203-796-5300 Toll Free 1-888-678-9427
Go to http://sp.hotims.com and enter 10 for product information.