Page 35 - Campus Security & Life Safety, November/December 2018
P. 35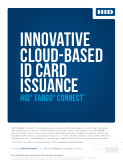 innovative cloud-based id card
issuance
hid® fargo® connectTM
HID® FARGO® ConnectTM is a revolutionary, cloud-based ID card issuance solution that centralizes and simplifies the issuance of ID cards and cuts multiple layers of program costs. HID FARGO Connect easily scales to meet peak volume demands during new student orientation, effortlessly integrates with campus card and physical access control software solutions, and enables efficiency through mobility — eliminating the need for any card issuer be tied to one dedicated workstation.
You'll call it innovation on demand. We call it, powering trusted identities. Powering Trusted Identities | Visit us at hidglobal.com/fargo-connect
Go to http://sp.hotims.com and enter 724 for product information.
© 2018 HID Global Corporation/ASSA ABLOY AB. All rights reserved. HID, HID Global, the HID Blue Brick logo, the Chain Design and FARGO Connect are trademarks or registered trademarks of HID Global or its licensor(s)/supplier(s) in the US and other countries and may not be used without permission.