Page 31 - Campus Security & Life Safety, November/December 2018
P. 31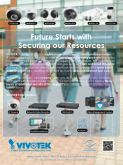 FE9391-EV MS8392-EV MS9390-HV MA8391-ETV MS8391-EV CC8371-HV
Future Starts with Securing our Resources
VIVOTEK, founded in 2000, is a global manufacturer and total solution provider of IP video surveillance, offering a wide range of award-winning products that utilize industry standard protocols as part of an open platform solution. We make this all possible by delivering advanced technologies such as H.265 and Smart Stream III that helps our customers deploy more network-friendly systems with lower band- width and storage requirements, as well as overall reduced infrastructure costs.
At VIVOTEK, we also take cybersecurity very seriously, and that's why we have partnered with industry leader in enterprise security, allowing us to deploy three layers of additional security at the edge so you can secure precious resources for the future.
VIVOTEK Total Solution:
IP Camera Network Video Recorder PoE Switch
Cloud Surveillance
Video Surveillance Manufacturer
Video Management System
Analytics
www.vivotek.com | 408-773-8686 | education@vivotek.com
Go to http://sp.hotims.com and enter 713 for product information.