Page 3 - Campus Security & Life Safety, November/December 2018
P. 3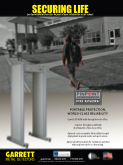 SECURING LIFE
Let Garrett Metal Detectors be part of your solution for a safe school.
®
PORTABLE PROTECTION, WORLD-CLASS RELIABILITY
Garrett's PD 6500i walk-through detector offers:
• Superior throughput, with high discrimination of innocuous items.
• Optional caster set enables full mobility for rapid deployment at special events and sports arenas.
• Optional battery modules for continuous operation without power cables or other wiring.
garrett.com • 800.234.6151 • 1.972.494.6151
Go to http://sp.hotims.com and enter 703 for product information.