Page 23 - Campus Security & Life Safety, November/December 2018
P. 23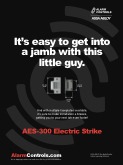 It's easy to get into a jamb with this little guy.
[95.85] 2-3/4"
[45.72] 1-13/16"
And with multiple faceplates available, it's sure to make installation a breeze, getting you to your next job even faster!
AES-300 Electric Strike
AlarmControls.com Go to http://sp.hotims.com and enter 706 for product information.
[31.75] 1-1/4"