Page 11 - Campus Security & Life Safety, November/December 2018
P. 11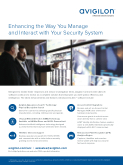 Enhancing the Way You Manage
and Interact with Your Security System
Designed to enable faster responses and reduce investigation times, Avigilon Control Center (ACC) 6 software continues to evolve as a complete solution that empowers you with speed, efficiency and intelligence. The latest enhancements and features introduced to ACCTM software include:
Access Control Integrations
Receive and act on Access Control Manager (ACM) door events and hardware input events.
Use access grants to unlock access doors directly from a camera view.
ACMTM Identity Verification feature enables users to see ACM credentials dynamically displayed within ACC camera views.
New License Plate Recognition (LPR) Analytics Engine
Captures, identifies and searches license plates with high accuracy for fast event response.
avigilon.com/acc | asksales@avigilon.com Go to http://sp.hotims.com and enter 708 for product information.
© 2018, Avigilon Corporation. All rights reserved. AVIGILON, the AVIGILON logo, AVIGILON CONTROL CENTER, ACC, AVIGILON APPEARANCE SEARCH, ACCESS CONTROL MANAGER, and ACM are trademarks of Avigilon Corporation.
Avigilon Appearance SearchTM Technology: Physical Description Search
Search for a person by selecting specific physical characteristics, including clothing color and gender.
Unusual Motion Detection (UMD) Technology: Available on H4 Mini Dome and H4 SL Camera Lines
Advanced artificial intelligence technology designed
to reveal events that may have otherwise been missed.
H4 Video Intercom Support
Enables operators to quickly and easily identify and communicate with a visitor before remotely granting access to secured areas.