Page 99 - OHS, June 2022
P. 99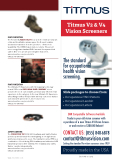 FOOT PROTECTION
The Roswell by KEEN UTILITY is a work boot with a fold-down collar and breathable canvas upper, the Roswell enables
a seamless transition from the job site to off-the-clock wearability. The KEEN.ReGen midsole returns 50 percent more energy than standard EVA foam and its asymmetrical carbon fiber toes are 15 percent lighter than steel. www.ohsonline.com/productinfo
CIRCLE 346 ON CARD
FOOT PROTECTION
The Ultimate Fit Experience with 3D mapping technology
now at 500+ retail RED WING SHOE COMPANY stores provides the most customizable, premium and efficient retail experience in the category. In the new Ultimate Fit Experience, a Red Wing Certified Fit Specialist will help customers build a customized fit system (boot, insole and sock). www.ohsonline.com/productinfo
CIRCLE 347 ON CARD
SAFETY LIGHTING
The PRINCETON TEC EOS 360 Headlamp and Safety Flasher provides powerful hands-free task lighting in low light areas and helps employees be seen. The hardhat mounted PPE is a combination of front facing EOS headlamp and rubberized LED band that provides 360° visibility. The headlamp and safety flasher operate independently. www.ohsonline.com/productinfo
CIRCLE 348 ON CARD
www.ohsonline.com
Circle 46 on card.