Page 71 - OHS, June 2022
P. 71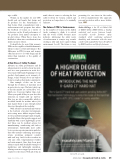 trips or falls.
Women in the market for new PPE
should seek out brands that design and fit products for the biomechanics of their bodies. Find a manufacturer with a tradeswomen-tested program that enlists the feedback of women in a variety of professions on the fit and performance of our products from initial conception to product release. When this is done, the feedback is taken into consideration from inital concept to release.
It should also be noted that women's PPE is no less capable or durable than men's when it comes to jobsite performance. The differences in PPE for men and women often has more to do with design and fit rather than materials or the quality of construction.
A New Class of Safety Footwear
Advances in safety, performance and fit enhancements in work footwear has ush- ered in a new generation in work foot- wear. And, with brands beginning to focus product development on its women's of- ferings, today's women's boots are built to be just as tough as their male counterparts.
One example of this can be seen through the evolution of materials used in protective toe caps. The latest safety cap to hit the market are carbon-fiber toes, which are 15 percent lighter than steel. When you spend all day on your feet, this reduction in weight adds up. Carbon- fiber toes are also non-metallic, which is an added benefit for workers whose jobs may require them to pass through metal detectors throughout the workday.
With advances in material innovations at the forefront of product development, we're seeing more athletic inspired safety footwear crafted from high-tensile strength, breathable fabrics that provide support and durability with a more lightweight, sporty feel. These can be excellent options for manufacturing, warehousing and indoor environments. Additionally, more safety boots now incorporate innovative midsoles that offer extreme cushioning and energy return, providing enhanced comfort with each step. And, for those workers in cold and often temperamental weather and environments, there have been great advances made with breathable waterproof membranes and lightweight insulation, offering even more rugged protection and comfort for the wearer. With all of this in
mind, when it comes to selecting the best safety footwear for women, comfort and protection no longer have to be mutually exclusive.
The Future of PPE for Tradeswomen
As the number of women in the skilled trades continues to climb, it is critical that the world of PPE becomes more inclusive. Addressing the safety needs of tradeswomen is a major step towards creating a safer and more equal working environment for all. The future is very
promising for our sisters in the trades as well as manufacturers who approach personal protection with a more holistic view.
Robin Skillings is the VP & Global GM at KEEN Utility. KEEN Utility, a leading industrial and service footwear brand, successfully exceeds footwear safety standards while combining advanced durability and innovation with the same comfort and unparalleled classic fit offered by KEEN outdoor and lifestyle footwear.
www.ohsonline.com
JUNE 2022 | Occupational Health & Safety 65
Circle 18 on card.