Page 33 - OHS, March 2021
P. 33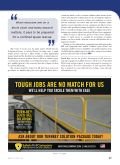 When rescuers are on a short clock and every second matters, it pays to be prepared for a confined space rescue.
ThThis form of rescue goes by many names: Buddy Rescue, Companion Rescue or Assisted Rescue. In many cases, a single trained person can raise a fallen worker to safety immediately using a winch and the shoulder rescue handles on many harnesses. Having this rescuer in position before a fall in a confined space occurs means an immediate rescue without having to scramble to get a qualified person to the scene who then has to figure out how to reach the fall victim.
The rescuer should be trained in fall protection and rescue procedures, be familiar with your rescue plan and know how to
operate the winch or SRL to retrieve a fallen worker. Rescue should only be performed by an authorized rescuer, meaning the employee should be trained in rescue procedures and equipment, as well as fifirst-aid techniques associated with fall arrest incidents. Many suppliers of personal fall protection equipment and fall protection systems offer specialized training designed to educate workers on how to correctly use their products, so ask your supplier about these training opportunities when you purchase fall protection equipment.
When it comes to fall rescue, speed is of the essence. Minutes matter. A rapid rescue is essential for preventing secondary injuries—and even death—that can occur in a fall incident due to suspension trauma.
Having a rescue plan in place, equipping teams with appropriate PPE and equipment that enables confined space rescue and ensuring a capable rescuer is available to execute the rapid recovery of a fall victim are simple steps you can take to ensure your workers go home safe at the end of the day.
David Ivey oversees the product development of fall protection and safety equipment at Malta Dynamics. He also sits on the ANSI Z359 board and participates in many subcommittee meetings for safety products. For more information or with questions about how to properly use your safety harness D-Rings, contact divey@ maltadynamics.com.
Untitled-2 1
1/21/21
29
TOUGH JOBS ARE NO MATCH FOR US
WE'LL HELP YOU TACKLE THEM WITH EASE
www.ohsonline.com
12:55 PM
TURN-KEY
SAFETY RAIL
SOLUTIONS
FROM START TO FINISH
ANALYZE • SPECIFY MANUFACTURE • INSTALL
ASK ABOUT OUR TURNKEY SOLUTION PACKAGE TODAY!
SAFETYRAILCOMPANY.COM I 888.434.2720
Circle 7 on card.