Page 30 - OHS, March 2021
P. 30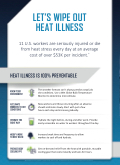 LET'S WIPE OUT HEAT ILLNESS
11 U.S. workers are seriously injured or die from heat stress every day at an average cost of over $53K per incident.*
HEAT ILLNESS IS 100% PREVENTABLE
KNOW YOUR ENVIRONMENT
ACCLIMATE WORKERS TO HOT CONDITIONS
HYDRATE THE RIGHT WAY
MODIFY WORK TO REST RATIO
PROVIDE BODY COOLING PPE
The weather forecast can't always predict actual job site conditions. Use a Wet Globe Bulb Temperature Monitor to determine microclimate.
New workers and those returning after an absence should acclimate slowly. Start with just a few hours each day and increase gradually.
Hydrate the night before, during and after work. Provide easily accessible ice water to workers throughout the day.
Increase break time and frequency to allow workers to cool off and hydrate.
Get on-demand relief from the heat with portable, reusable cooling gear that cools instantly and lasts for hours.
*BLS database of injuries resulting in at least one day away from work. OSHA estimated costs calculator for occupational injuries and illnesses.