Page 3 - OHS, March 2021
P. 3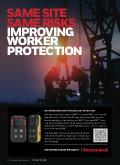 SAME SITE SAME RISKS IMPROVING WORKER PROTECTION
© 2021 Honeywell International Inc.
CIRCLE 3 ON CARD
WE'RE REINVENTING PORTABLE GAS DETECTION
Introducing the Honeywell BWTM Icon and BWTM Icon+ multi- gas detectors. The first multi-gas detectors with an icon- based display for fast decisions. BWTM Icon and BWTM Icon+ can help simplify safety while improving worker protection with the performance and reliability you've come to expect from Honeywell BW.
Scan the QR code to learn about the benefits of transitioning from single-gas to multi-gas detectors to protect all workers at a site from more hazards.