Page 52 - OHS, May 2020
P. 52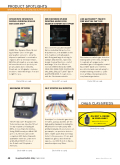 PRODUCT SPOTLIGHTS
WWW.OHSONLINE.COM/MCV/PRODUCTS
OPERATE WITH CONFIDENCE DURING A CHEMICAL RELEASE WITH SAFER ONETM
SAFER One Dynamic Plume Model- ing Software uses on-site gas
and weather sensors to show the dispersion path and concentration of gases after a chemical release. With this information, you can make informed decisions to protect your people, plant, and community. Download our infographic on plume models to learn which type of model is right for you.
NEW CHECKMATE XPLORER INDUSTRIAL HARNESS FOR MAXIMUM COMFORT AND SUPPORT
The comfort-focusedCheckmate© Xplorer industrial fall protection body harness, now available in the U.S., features vertically adjust-
able D-ring and large front ring for multiple attachments, ergonomic design for great function, comfort and range of motion. Meets or exceeds OSHA 1910.140, OSHA 1926.502, ANSI Z359.11-2014, EN 361:2002, EN12277:2007 Type A and EN358:2000. To learn more, visit the Checkmate website.
LION GASTRAINERTM: TRAIN TO FIND WHAT YOU CAN'T SEE
Give trainees realistic gas detection training without the risks. Designed to replicate a four-gas meter, simulated gas cloud signals created by portable GasSource emitters
are detected and read, allowing for multiple training scenarios. Learn more at https://www.lionprotects. com/hazmat-gas-trainer.
Circle 306 on card.
Circle 307 on card. Circle 308 on card.
RESPIRATOR FIT TESTER
TSI's PortaCount®Respirator Fit Tester delivers an objective fit test for any respirator, including all N95s, in less than 21⁄2 minutes. Using OSHA's newly modified CNC protocols, fit tests can now be completed 65% faster than with qualitative methods. Learn more at Modified CNC Protocols or
the PortaCount®Respirator Fit Tester.
COST EFFECTIVE GAS DETECTIVE
Sensidyne's colorimetric gas detec- tor tubes, pumps, and kits are the high-quality standard, including the AP-20S detector tube pump with antibacterial grip. At a very low cost- per-sample, our precision detector tubes enable quick field screening tests for the presence of toxic and hazardous gases, and chemical vapors—over 360 from A to Xylene. www.Sensidyne.com/Tubes
OH&S CLASSIFIEDS
Filtermist_Ad_FM_509.qxd  5/24/12  1:58
Circle 309 on card.
Circle 310 on card.
48 Occupational Health & Safety | MAY 2020
www.ohsonline.com
OIL MIST & SMOKE IN YOUR SHOP?
www.mistcollectors.com Tel: 1-800-645-4174
Circle 50 on card.