Page 42 - OHS, May 2020
P. 42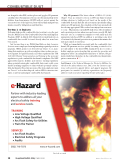 COMBUSTIBLE DUST
use alongside other PPE, such as gloves and goggles, FR garments can help reduce burn injuries if worn correctly and may help lower fatalities from burn injuries. FR PPE will not protect against the concussive force of the explosion, but it will certainly mitigate burn injuries caused by deflagrations and flash fires.
The Onus is on Employers
Following high-profile combustible dust accidents over the past decades, OHSA issued the Combustible Dust National Emphasis Program (NEP) in March 2008. Many felt a formal final rule on combustible dust would be issued shortly after, but none have been issued.
Just because there is no OSHA Final Rule on dust, however, does not excuse employers from implementing required protection programs. OHSA points to its General Duty Clause: 5 a 1, man- dating that employers provide a workplace where workers are pro- tected against recognized hazards, and other regulations like CFR 1910.1200: Hazard Communication and Training as the necessary regulations to push combustible dust hazard compliance. The NEP aggressively inspects facilities and enforces existing regulations where potential catastrophic combustible dust events could occur, thereby notifying employers to their worksite's potential combus- tible dust hazards. Once they are aware of the risks, employers must use "how to" tools at their disposal, such as NFPA consensus stan- dards, to prevent and mitigate combustible dust hazards.
Why FR garments? The latest edition of NFPA 652 (2019): Chapter 8 has an extensive section on PPE and flame-resistant clothing selection to build protocol based on the results of the combustible dust and flash fire risk assessment. Specifically calling attention to FR garments, this standard sets the basic groundwork for selecting appropriate PPE to reduce burn injury if an event were to occur. FR garments, especially FR daily wear, offer streamlined and consistent protection when worn and worn correctly. FR daily wear also acts as a continuous reminder to work safely and don appropriate task-based PPE in addition to providing some level of constant body thermal protection in a garment that mimics the style and comfort of streetwear.
While not immediately associated with the combustible dust hazard, FR garments are now quickly becoming a critical tool to not only adhere to the latest NFPA standards but also to create a holistic employee protection plan that accounts for proactive and mitigation efforts. An indisputable final layer of defense, FR gar- ments clearly have their place in the combustible dust hazard miti- gation conversation.
Scott Francis is the Technical Manager for Westex by Milliken. In- volved in the safety industry since 1991, Scott has extensive expe- rience with protective apparel fabrics and apparel programs. He participates in a number of industry organizations and frequently addresses trade associations regarding relevant safety topics.
Untitled-1 1
12/5/18 11:30 AM
38 Occupational Health & Safety | MAY 2020
www.ohsonline.com
Circle 8 on card.