Page 2 - Mobility Management, February 2019
P. 2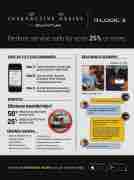 Reduce service calls by up to 25% or more.
   EASY AS 1-2-3 FOR CONSUMERS
REAL WORLD SCENARIO
Provider in his office
Josh in his living room
Hi, Josh. How can I help you today?
I accidently changed my controller language to Italian in the settings menu.
Let me connect with Interactive Assist and set your controller back to English.
I have set your system language back to English. Before we end the call let me activate the screen mirroring function and walk you through how to change this if it happens in the future.
Thanks. I appreciate it!
   Step 1) Open Interactive Assist app and pair phone with chair.
Step 2) Give provider channel and pass code to begin
connection process.
Step 3) Accept remote connection. You are now ready to begin.
BENEFITS
       Eliminate wasteful trips!
50 reduction in secondary % service calls
25% reductioninfirst-time service calls
Quickly resolve...
     • Batterymanagementissues • Chargingproblems
• Motorproblems
• Basicprogramming
• Viewingerrorcodehistory
• Troubleshooting
• Remoteconnectiontoprogramminginfrared • Addingphotostophotoalbum
• Dealer-to-dealerconnection
• Real-timemonitoringofproblems
     Download Interactive Assist and get started today.