Page 21 - Mobility Management, March 2017
P. 21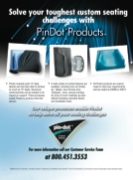 Solve our Iou hes! custom seutin
Y 9 ,9 s . 9
. .. "af \\ \\ & i 
/ .
 Pi n Dot ® Proci u cis
/ ///7 'l\\\\* '"
1 l l \\ .
/ \\\\\\(l' l_ I 
't V' I
I ,' ' »
/  I
Vt F _l'
l. '
_- A l 
. J
° Pindot routinely pulls 12" deep ° A wide variety of surface features are ° All Pindot products are custom-

laterals and has been able to achieve available, including (but not limited made to meet your requirements
as much as 15" depth. Aluminum to): Naked, vacu—formed vinyl, and are coded as E2609 or E2617.
reinforcements can be molded in for 'Sofspots', visco, and gel overlays.

maximum support. These processes An array of cover materials are also

enable Pindot to produce ultra—thin offered including reversible Dartex

laterals. and breathable mesh.

 lt'Ho'u y' ouolw w d  :5 
Lo' Ea  50:13  "'o 3', .13'   "o a
I ® I'
pm-dot
X-"I Custom
Seating
fé
For more information call our Customer Service Team
at 800.451.3553
©2009 lnvacare Corporation All rights reserved. Trademarks are identified by the symbols W and ® All trademarks are licensed to Invacare Corporation unless otherwise noted.