Page 39 - GCN, May 2016
P. 39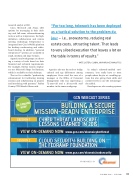 research analyst at IDC.
Cisco, Microsoft and Avaya offer
options for messaging in their desk- top and full-room videoconferencing tools as well as telepresence, the high- definition collaboration and remote meeting technology. Telepresence is integrated into Cisco's WebEx platform for desktop conferencing and white- board sharing. In addition, "personal telepresence" systems are available in small, medium and large formats.
Agencies and workgroups are choos- ing a variety of tools based on their financial and technical requirements. For example, Fairfax County employ- ees use Microsoft Skype for Business, which is available on their desktops.
The tool is a valuable "productivity enhancement for facilitating training sessions and collaborating on projects and interfacing with partners," Fairfax County CTO Wanda Gibson said.
"For too long, telework has been deployed as a tactical solution to the problem du jour — i.e., snowstorms, reducing real estate costs, attracting talent. That leads to very siloed execution that leaves a lot on the table in terms of results."
— KATE LISTER, GLOBAL WORKPLACE ANALYTICS
Agencies also use the tools to bridge cultural and age differences among employees. Cross cited the case of a manager at the Office of Personnel Management who was supervising a 72-year-old and a 20-year-old staff member in the same workgroup.
In today's telework-enabled envi- ronment, "you really have to meet people where they're at...enabling op- tions but also giving them skills and comfort levels to use the technology," she added.
Developers are also creating systems
SESSION 1
SESSION 2
GCN WEBCAST SERIES
BUILDING A SECURE MISSION-READY ENTERPRISE
CYBER THREAT LANDSCAPE: LESSONS LEARNED IN 2015
CLOUD SECURITY: BUILDING ON THE FEDRAMP FOUNDATION
VIEW ON-DEMAND NOW: www.gcn.com/akamaicyberthreat
VIEW ON-DEMAND NOW: www.gcn.com/akamaicloudsecurity
SPONSORED BY
0416_Webinar_HalfPage_Akamai_#2_final.indd 1
G C N M AY32/2041/166 •2:G13C PNM. C O M 37
ON-DEMAND NOW!