Page 2 - GCN, May 2016
P. 2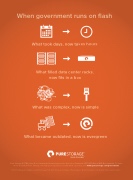 When government runs on flash
What took days, now takes hours
What filled data center racks, now fits in a box
What was complex, now is simple
What became outdated, now is evergreen
Pure Storage (PSTG) is the #1 recommended technology vendor (based on Satmetrix 2015 NPS Global B2B Benchmarks). To learn more about how Pure Storage can help your agency accelerate what's possible, visit www.purestorage.com/government
© 2016 Pure Storage, Inc. All rights reserved. Pure Storage, Pure1, and the P Logo are trademarks of Pure Storage, Inc. All other trademarks are the property of their respective owners.