Page 13 - GCN, May 2016
P. 13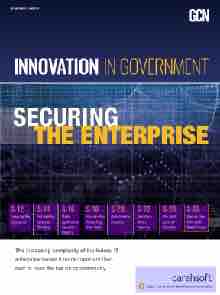 SPONSORED CONTENT
INNOVATION IN GOVERNMENT
SECURING
THE ENTERPRISE
S-12
Securing the Enterprise
S-14
Automation Is Key to Success
S-16
Make Application Security a Priority
S-18
How Are You Protecting Your Data?
S-20
Data-Centric Security
S-22 S-24
Analytics- The Next Driven Level of Security Security
S-26
One-on-One With GAO's David Powner
The increasing complexity of the federal IT enterprise makes it more important than ever to raise the bar on cybersecurity.
 Learn more at carahsoft.com/innovation.