Page 2 - FCW, November/December 2021
P. 2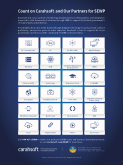 CountonCarahsoft® andOurPartnersforSEWP
Carahsoft and our ecosystem of technology manufacturers, reseller partners, and integrators are proud to offer thousands of solutions through SEWP to support the Federal government's IT requirements and initiatives.
Providing the best value in the market through diligent technology research, proven contract proficiency, and precise quote-to-order expertise, Carahsoft is here to support all of our government customers and the community of SEWP contract holders.
21st Century Idea
5G
AI, HPC & ML
App Exchange
Big Data
CDM
Customer Experience & Engagement
CMMC
Cybersecurity
DevSecOps
FedRAMP
Education Tech
IoT & UAS
Geospatial
Healthcare Tech
Law Enforcement & Public Safety
Mobility & Telework
MultiCloud
RPA
Open Source
SaaS
Supply Chain
Zero Trust
Call 844-850-SEWP to talk to our dedicated SEWP sales and business development team, or visit carahsoft.com/SEWP to learn more.
NASA SEWP V Group A: NNG15SC03B
NASA SEWP V Group D: NNG15SC27B Contract Term: May 1, 2015 - April 30, 2025
Video
©2021 Carahsoft Technology Corp. All Rights Reserved.