Page 4 - FCW, September/October 2021
P. 4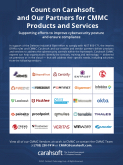 Count on Carahsoft and Our Partners for CMMC Products and Services
In support of the Defense Industrial Base effort to comply with NIST 800-171, the interim DFARs rules and CMMC, Carahsoft and our reseller and vendor partners deliver products and services to address the cybersecurity controls within the framework. Carahsoft CMMC experts can help organizations identify the services, training and technology — delivered on premises or in the cloud — that will address their specific needs, including solutions from the following vendors:
View all of our CMMC Vendors at carah.io/CMMC or contact the CMMC Team at (703) 230-7414 or CMMC@carahsoft.com.
©2021 Carahsoft Technology Corp. All Rights Reserved.