Page 7 - FCW, November/December 2020
P. 7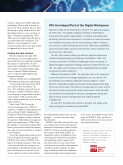 comes to data at rest. With traditional technology, all user data is stored on the device. That means if the user loses the laptop or plugs another device into that laptop, there is a very real risk of data or credential compromise. With VDI, users are simply using the device as a portal into their workspace. The data they are accessing for a work session resides in the secure data center as opposed to the device itself.
Finding the right solution
When looking for the right VDI environment, it's most important to ensure that the user experience matches the agency's requirements. If your agency has standardized on VMware®, for example, it would probably make sense to choose VMware Horizon® ViewTM, both for supportability and integration reasons.
The key, Estrella says, is designing the VDI solution to meet your requirements.
"You probably don't just want VDI; you want to solve a problem," he
says. "For example, your goal may be moving to a digital workspace model or developing a comprehensive remote work solution. VDI can be the first step in those transitions, but it's not the entire solution."
That's why CDW•G uses the service-based approach. CDW•G's expertise, combined with products and services from NASA's Solutions for Enterprise-Wide Procurement (SEWP), results in a complete, turnkey solution for agencies. Depending on an agency's goals and requirements, CDW•G can put together a customized solution that meets your business needs and ensures the value of your investment is returned to the business.
To get the right products and services for its customized solutions quickly, CDW•G often relies on SEWP on be- half of its federal customers. That way, "we can work with our customers on meticulously selecting IT products and pair it with the proven success of our services delivery teams to best satisfy
the requirements and present it as one package — sort of a one-stop-shop," Estrella said.
SEWP V, the fifth version of the very successful nearly 30-year-old Govern- mentwide Acquisition Contract Vehicle (GWAC), focuses on getting agencies the resources they need quickly, at competitive prices. In addition, it pro- vides agencies with tools for tracking and reporting, and has aggressively moved into the services arena. Prod- uct-based services such as maintenance, warranty, product training, site plan- ning, installation and initial implemen- tation and product-based engineering
services are all available as part of the scope of SEWP V. They can also be delivered on their own; not as part of any product purchase.
VDI: An Integral Part of the Digital Workspace
Agencies today are working hard to improve the digital workspace for their users. The digital workspace strategy is essentially a framework that guides organizations in creating, developing and enhancing the end-user experience. The idea is to make end users more efficient and productive by incorporating modern collabora- tion, security, mobile and productivity tools. With these capabilities, users should be able to access the tools they need, wherever and whenever they need them.
The first step toward creating an effective digital workspace is implementing application and desktop virtualization. Often, VDI
is a key component. CDW•G's Estrella goes as far as saying "a legitimate digital workspace strategy requires checking the box for VDI. You really can't proceed to other capabilities that the digital workspace provides without it."
VMware's Workspace ONETM, for example, uses a VDI approach to securely deliver and manage applications on any device. VDI functionality is provided by VMware's Horizon platform, which helps IT organizations deploy and scale virtual desktops and apps from one control plane. The result is a single place for users to find and launch apps across public and private clouds. Other benefits include device and application lifecycle management, along with device-aware access management and unified endpoint management.
As with all IT products and solutions, all parts of a digital work- space strategy are available through SEWP.
CDW•G is a Trusted CSfC IT solutions integrator providing end-to-end support for hardware, software and services. For more information on CDW•G's SEWP services, visit CDWG.com/sewpv.