Page 9 - FCW, September 15, 2016
P. 9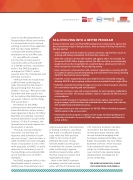 open to all other Department of Transportation offices and centers, it's an essential focus for anyone wanting to sell into those agencies. DOT has also made SAVES IT contracts with small businesses mandatory for its non-FAA users.
It's very difficult to break
into the FAA and provide for customers without the benefit
of a SAVES contract, says Shirley Hottot, the SAVES program manager for CDW-G, which services both the IT Hardware and Software contracts.
"Without them we would have
a difficult time achieving any sales, because the FAA doesn't like purchasing from the open market," she says. "We had a GSA Schedule that they used to buy off, but without the SAVES program we weren't able to do the things that we do best."
All vendors on the SAVES contracts must meet performance levels dictated by various service level agreements (SLAs). For Office Essentials, for example, a product must be delivered to buyers within 24 hours. On the IT contracts, the required service levels depend on the product or service.
"The SLAs and reporting are very strict, we feel that our response and attention to both are very strong," says Tom Alex, a CDW-G SAVES account manager. "Ease of acquisition is one of the main purposes of SAVES, so quick response to customers is one of the big things surrounding SAVES, and is certainly one of CDW's strengths."
The SAVES program office is also fairly flexible when it comes to adding new manufacturers and
original-equipment manufacturers to existing contracts—assuming that there's a sufficient business case within the FAA and that CDW-G can come up with sufficient discounts. Going forward, Baker says the goal is
to maintain the current contract while continuing to explore additional opportunities within the FAA, based on mission and organizational need.
Most of the SAVES contracts will expire over the next several years, with the IT hardware and
VTC contracts ending in late 2016 and in 2017. The FAA intends to re-introduce these vehicles, with an eye toward leveraging small businesses where practicable, says Baker. For example, the new Office Essentials contract, which was due to be awarded in late summer,
will go to small business. Several new contracts are already being implemented, including one for cloud computing.
FOR MORE INFORMATION, PLEASE VISIT: WWW.CDWG.COM/FEDERAL
SPONSORED BY
FAA: EVOLVING INTO A BETTER PROGRAM
During its first ten years, the FAA SAVES program has evolved as the agency has discovered better ways of doing business. Here are some of the key lessons the FAA has learned:
• Solicit feedback from the market on contract structure, requirements (such as ordering and delivery standards), CLIN structure, and so on.
• Allow the contract to evolve with markets and agency need. For example, for the current SAVES Office Supply contract, the 500 core items are continuously analyzed and can be renegotiated on a quarterly basis, allowing core items to reflect actual/near real-time FAA purchasing activity.
• Have continuous communication with customer organizations, ensuring SAVES is included in agency operational planning and requirement forecasting, allowing SAVES to be proactive versus reactive.
• Establish a cross-organizational product team for each commodity category, allowing SAVES to be an agency solution versus a mandate from a single office.
• Establish a standard reporting strategy across each contract program, allowing for consolidated reporting and trend analysis.
• Establish a business case and savings template for each category, validated by a third-party auditor. This brings validity to claims of operational efficiency and cost-avoidance.
• Ensure SAVES program is mandatory, which shows agency commitment to program usage, institutionalizes item standardization and eases user ordering with established and marketed sources.
• Gain executive buy-in and commitment for SAVES. Without leadership support, SAVES would not be as successful.
• Continually monitor program compliance and usage, minimizing leakage and generating information to ensure SAVES can support mission need based on actual activity.