Page 39 - FCW, September 15, 2016
P. 39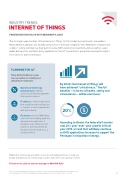 INDUSTRY TRENDS:
INTERNET OF THINGS
PROVIDE MISSION VALUE WITH MEANINGFUL DATA
The strategic opportunities of the Internet of Things (IoT) for federal governments are endless. Many defense agencies are already using sensors that can compile in-the-field data to help ensure soldiers' safety and improve their performance. With network connectivity, data analytics, open public data portals and third-party applications, the IoT's potential to generate meaningful insights from sensors' data is immense.
By 2020, the Internet of Things will have achieved "critical mass." The full benefits — in terms of health, safety and convenience — will be enormous.1
20%
According to Govini, the federal IoT market saw 20% year-over-year growth in fiscal year 2015, a trend that will likely continue as DOD applications increase to support the Pentagon's innovation strategy.2
CDW•G has technology specialists, services and leading partners to help you design and deploy an IoT technology solution tailored to your agency's needs.
To learn more, call your account manager at 800.808.4239
Sources: 1blog.indianrailways.gov.in/internet-of-things, "IoT, Internet of Things and Indian Railways," November 2015
2fedtechmagazine.com, "DOD, DHS and NASA Are Driving Adoption of Internet of Things Sensors," June 2016 3
PLANNING FOR IoT
Three distinct industry groups are responsible for creating and delivering IoT elements:
Operational technology manufacturers build the sensors and related equipment that monitor devices.
IT vendors provide components that enable operational devices to connect to and communicate with the network.
IT partners such as CDW•G play a pivotal role in helping agencies determine the right mix of hardware and software for IoT solutions, and ensure that all the pieces work together as a cohesive whole.